Fire Department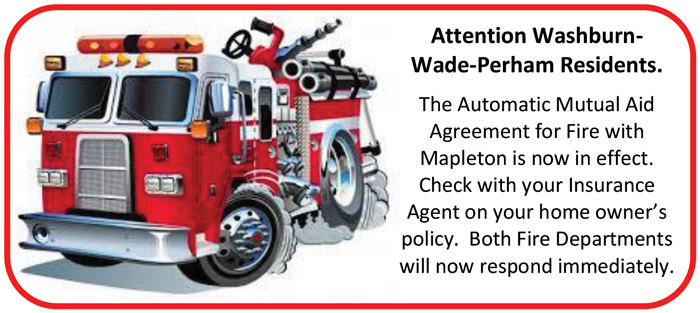 Online Burn Permits are now Free in the State of Maine.  Click here for more information
The Washburn Fire Department remains a leader in providing the highest level of fire service to citizens in Washburn, Wade, and Perham. The department has 17 volunteer firefighters, with over 70 % trained to the Firefighter I or Firefighter II certification. Washburn operates four pieces of fire suppression apparatus plus one brush truck for wildland fire suppression. With the Washburn Snowmobile Club's collaboration, the snowmobile, and rescue toboggan, we're making our well-maintained trails safer for all users.
Washburn Fire Department provides a wide range of emergency services, including fire suppression, assisting Presque Isle Ambulance with emergency medical services (EMS), hazardous materials response, water rescue, wild-land fire suppression, plus public assists and mutual aid to our surrounding communities. Washburn Fire Department also provides fire safety public education to all ages, which is the front line for keeping citizens safe.
Washburn Fire Department is a team that delivers quality response services. The Washburn Fire Department has values intended to illustrate an environment in which the department is committed to serving the public. The fire department can provide this service with the honorable values we serve.
Service Excellence
We do everything we can to ensure we deliver the best possible service to our internal and external citizens and community through well-trained, humble, dedicated, competent, hardworking, safe members. We are active participants in the community.
Embrace Diversity
Recognizing the value of diversity helps us to work together as a team to serve our community. We are dedicated to reflecting and respecting diversity throughout our organization.
Integrity & Honesty
We value the public's trust and are committed to honest and ethical behavior. We hold ourselves accountable to these values. We believe in a personal commitment to the organization and the community.
Innovation
We recognize the value of change and meeting the ever-evolving needs of our citizens and members. We are committed to seeking out effective methods and progressive thinking toward change. Washburn Fire Department is committed to providing an effective, efficient service to meet not only the demands of today's fire and EMS service but all future needs of our community.
Being a member of the Washburn Fire Department is a commitment to the organization and Washburn's citizens. It is our goal to deliver a safe, effective emergency response. We strive for excellence in literally every contact with our citizens, whether inside or outside the organizations.
We are held accountable for people's lives and property. We take that pledge seriously. Washburn Fire Department holds high expectations for behavior and performance that are non-negotiable. We care about each other and are committed to putting our lives on the line for our community.
Roster
Fire Chief: Nate Allen
Assistant Fire Chief:
Chaplain: Troy Heald
Training & Safety Officer:  Dale Morrison
Captain:  Chris McCoy
Lieutenant: Brian Tozier
Firefighters:  Tony Huston, Justin Carney, Geoffrey Skidgel, Bryan McCoy, Mike Ehlerman, Mike Matowitz, Dave Savoy, Dawson McCoy, Beckam Vaughn
JR. Firefighters: Brayden Fitzgerald, Carson Cole, Jasmine West
Photo Gallery